Canada in Conversation: Crisis, Challenge and Change (online conference)
Submissions Deadline: 29 January 2021 EXTENDED: 12 February 2021 Closed
Conference Dates: 9, 16, 23 and 30 April 2021 (10am-noon)
The "Canada in Conversation" graduate research series will be the premier gathering of graduate students across Canada engaged in research looking at topics pertaining to Canada in a local, national and global context. As the nation moves into the new decade, 2021 sees the country navigating a shifting landscape that is coming out of crisis, confronting new challenges and undergoing change. So, what are the conversations Canada and Canadians are having? How are these conversations changing (especially in a COVID and post-COVID era)? Where are they taking place? Who is changing them? What kinds of changes are occurring and/or what changes need to occur? Where is the conversation headed—and where should/could it be going?
The "Canada in Conversation" graduate research paper series will take place online over Zoom across four Fridays in April (9, 16, 23 and 30 April 2021) and run 10:00 am-12:00 pm EST.
In terms of format, each week will centre on one key theme (to be determined after the abstracts have been submitted and sorted) and feature the work of 4-5 graduate students making 20 minute presentations followed by comments from an expert in the field, and questions from the audience. The series will be moderated by the Director of the Robarts Centre.
The Robarts Centre for Canadian Studies welcomes exploration of these topics from multiple approaches, disciplines, perspectives and lenses, not limited to but including:
Art, theatre, film, music (history, performance, theory), and creative practices
Gender and sexuality
Health, well-being, and mental health
History and Humanities
Identity, culture, race, and ethnicity
Indigenous studies
Law and legal practices
Literature and languages
Politics
Religion, beliefs and spirituality
Structures of society
Space, geography, and environmental studies
Technology studies, Internet, and social media
Graduate students are invited to submit proposals for presentations that examine these themes considering Canada in a national and global context. The goal of this series is to provide a space for discussions surrounding Canada's changing dynamic broadly defined; we thus encourage students from a wide variety of disciplines to interpret this theme. All applicants will be offered an opportunity to publish their graduate papers in the Robarts Center for Canadian Studies' online publication Canada Watch.
All speakers will receive a gift bag as a thank you package from the Robarts Centre.
Please submit proposals (max. 250 words) at https://form.jotform.com/RobartsConference/submissions by Friday, 12 February 2021
Please contact robartsconference@gmail.com should you have any questions.
========================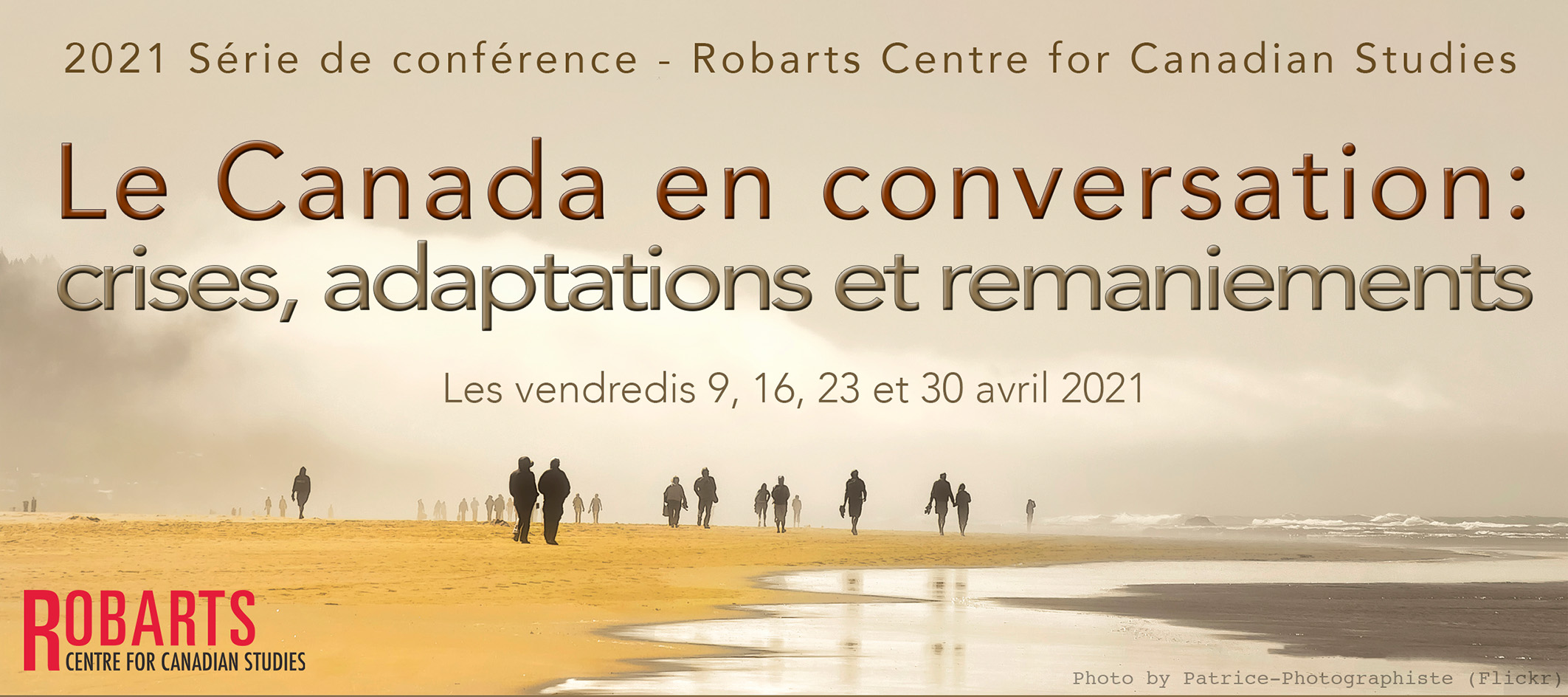 Le Canada en conversation : crises, adaptations et remaniements (conférence en ligne)
Date butoir : 12 février 2021
Aux abords d'une nouvelle décennie, le Canada est ébranlé par de nombreuses crises et doit faire face aux ébullitions qui en ressortent. Nécessitant de nombreuses réflexions et tout autant de nouvelles conversations, la série de conférences « Le Canada en conversation » se veut un lieu de rassemblement pour les étudiants.es des cycles supérieurs dont la recherche porte sur tout sujet Canadien. Plusieurs questions s'ouvrent à nous : quelles sont les conversations canadiennes du moment? Quels genres de transformations subissent, ou devraient subir ces conversations, surtout à l'ère de la COVID-19? Quels sont les lieux de ces échanges? Finalement, quelles sont les directions que ces conversations prennent, pourraient prendre ou devraient prendre?
Le Robarts Centre for Canadian Studies (RCCS) invite les étudiants·es des cycles supérieurs à soumettre des propositions dans les catégories de communications, séances ou tables rondes. L'objectif de cette série étant de fournir un espace de discussion sur l'évolution de la dynamique canadienne au sens large, nous encourageons les étudiants.es à soumettre des propositions diverses et divergentes sur tous sujets reliés aux conversations, directions, et enjeux Canadiens, et ce, provenant de maintes disciplines dont celles mentionnées ci-dessous:
• Art, film, musique, théâtre (histoire, performance, théorie) et pratiques créatives
• Droit et pratiques juridiques
• Études autochtones
• Études environnementales, géographiques et spatiales
• Études technologiques, Internet et médias sociaux
• Genre et sexualité
• Histoire et sciences humaines
• Identité, culture, race et ethnicité
• Littérature et langues
• Politique canadienne
• Religion et spiritualité
• Santé, bien-être et santé mentale
• Structures de la société
« Le Canada en conversation » se tiendra les vendredis 9, 16, 23 et 30 avril 2021 de 10 h à 12 h HNE et le thème de chaque semaine sera déterminé selon les soumissions reçues. La série de conférence sera animée par la directrice du Robarts Centre for Canadian Studies, Dr. Gabrielle A. Slowey, et les présentations de 20 minutes seront modérées par des spécialistes en études canadiennes affiliés au RCCS. En guise de remerciement, tous les conférenciers.ères recevront un sac-cadeau du RCCS.
Les soumissions doivent comprendre un résumé de 250 mots, une biographie de 100 mots, et doivent être reçues au plus tard le 12 février 2021 en remplissant le formulaire en ligne à l'adresse suivante : https://form.jotform.com/RobartsConference/submissions.
Après la conférence, le Robarts Centre for Canadian Studies invitera les conférenciers.ères intéréssés.es à soumettre une version article de leur présentation (750 à 1000 mots) pour considération dans Canada Watch, la publication en ligne du RCCS. Détails à suivre.
Pour plus de renseignements, veillez svp communiquer avec nous à l'adresse suivante : robartsconference@gmail.com.