Walking the Walk? Fatigue and Hope in the Study of Canada
Conference Dates:
Thursday, 7 April 2022 (held virtually via Zoom)
Friday, 8 April 2022 (held virtually via Zoom)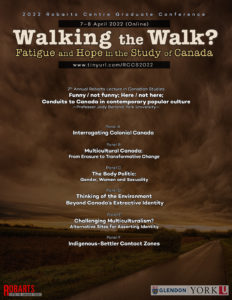 The study of Canada is fraught with ironies and contradictions: on the one hand about Canada's greatness, and on the other critiques exposing how Canadian settler colonial society reproduces itself through global structures of oppression. Navigating this terrain has made researchers understandably weary—whilst remaining hopeful for the future.
The 2022 Annual Robarts Centre Graduate Conference will be confronting some of the mainstream representations of Canada with the realities of lasting systemic inequities and the lack of collective action for necessary change. Mobilizing ongoing frustration, impatience and fatigue in a critical and interdisciplinary study of Canada, this conference will reflect on these asymmetries and points of rupture, while also highlighting key pathways to transformation and futures of hope. How are mainstream representations about Canada reproduced and what makes them myths, charades and ironies? What are the gaps between representations and praxis? Where is transformative action being developed and what does it look like? Why are we so tired of trying to reconcile the multiple visages of the country?
Download the programme here: https://robarts.info.yorku.ca/files/2022/03/RCCS-Grad-Conf-Programme2022-FINAL.pdf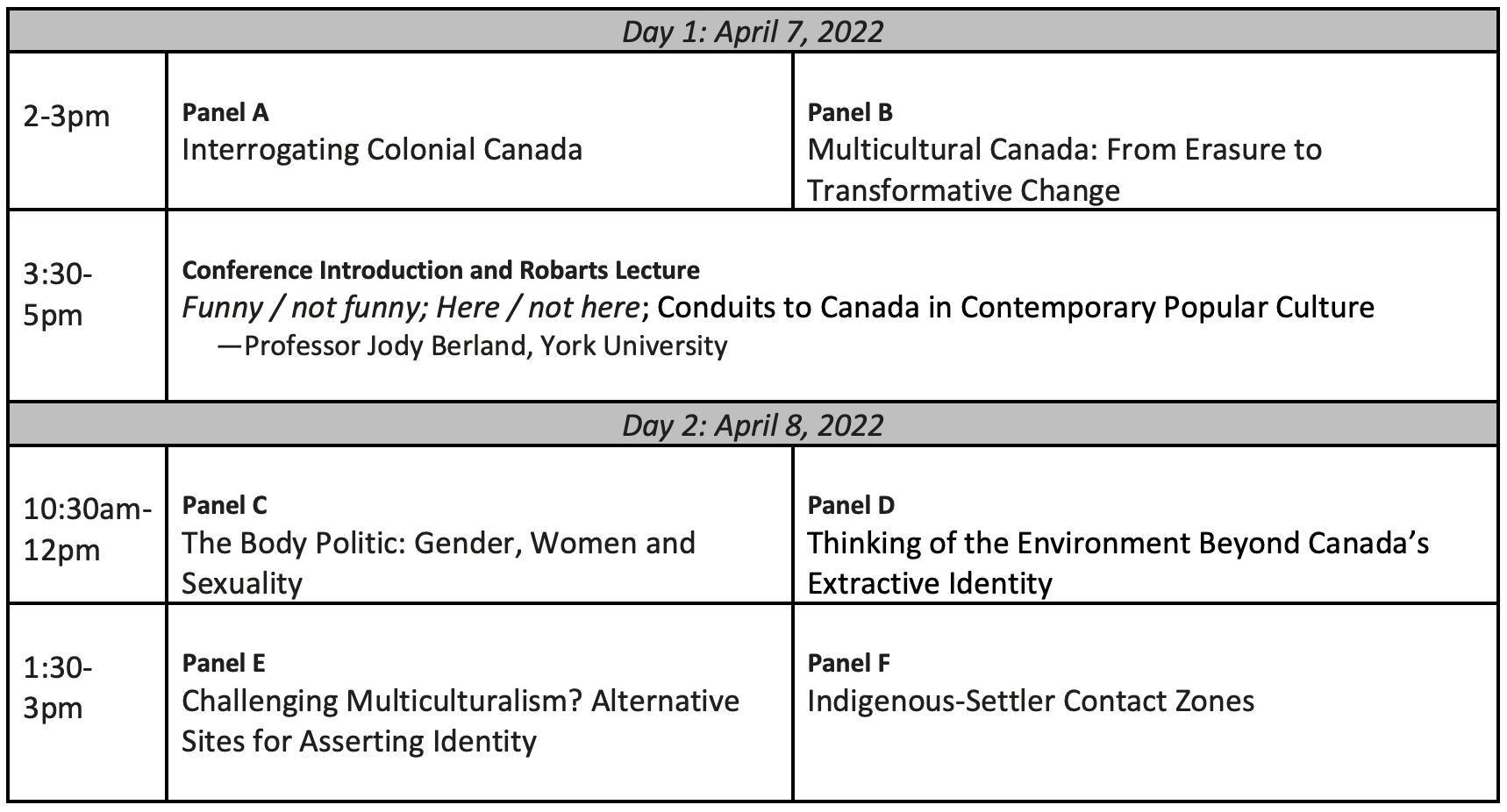 DETAILS:
Day 1: https://robarts.info.yorku.ca/event/day1-rccs2022/
Day 2: https://robarts.info.yorku.ca/event/day2-rccs2022/
---
Dates de la conférence :
Jeudi 7 avril 2022 (tenu virtuellement via Zoom)
Vendredi 8 avril 2022 (tenu virtuellement via Zoom)

L'étude du Canada abonde en ironies et contradictions : d'une part la grandeur du pays, d'autre part le constat d'une société coloniale qui se perpétue à travers des modèles d'oppression à l'échelle mondiale. On comprendra la fatigue qui peut s'installer chez les chercheurs appelés à négocier ce terrain, tout en gardant espoir face à l'avenir.
La conférence annuelle des étudiants aux cycles supérieurs du Centre Robarts 2022 propose de confronter les représentations couramment acceptées du Canada aux réalités des iniquités systémiques qui perdurent ainsi que de l'absence d'action collective en faveur du changement. Par la mobilisation de la frustration, de l'impatience et de la fatigue dans le cadre d'une étude critique et pluridisciplinaire du Canada, la conférence amènera une réflexion sur ces asymétries et points de rupture, tout en faisant la lumière sur la voie vers la transformation et des lendemains d'espoir. Comment les représentations acquises du Canada se reproduisent-elles, et qu'est-ce qui fait d'elles mythes, charades et ironies? Où se situe le clivage entre la représentation et la praxie? Où se développe l'action transformatrice, et à quoi ressemble-t-elle? Pourquoi tant de lassitude à force de tenter de concilier les multiples visages du pays?
DETAILS:
Day 1: https://robarts.info.yorku.ca/event/day1-rccs2022/