Canada in Conversation: Crisis, Challenge and Change (online conference)
Conference Dates: 9, 16, 23 and 30 April 2021 (10am-noon)
The "Canada in Conversation" graduate research series will be the premier gathering of graduate students across Canada engaged in research looking at topics pertaining to Canada in a local, national and global context. As the nation moves into the new decade, 2021 sees the country navigating a shifting landscape that is coming out of crisis, confronting new challenges and undergoing change. So, what are the conversations Canada and Canadians are having? How are these conversations changing (especially in a COVID and post-COVID era)? Where are they taking place? Who is changing them? What kinds of changes are occurring and/or what changes need to occur? Where is the conversation headed—and where should/could it be going?
The "Canada in Conversation" graduate research paper series will take place online over Zoom across four Fridays in April (9, 16, 23 and 30 April 2021) and run 10:00 am-12:00 pm EST.
---
For details about each panel click on the following to visit their respective event pages:
Panel 1A: Indigenous Policies
Panel 1B: Land, Sovereignty & Settler Colonialism
Panel 2A: Environment and Climate Change
Panel 2B: COVID-19: Pandemic Effects and Consequences
Panel 3A: Gender and Sexuality: Barriers, Justice and Policies
Panel 3B: Canadian Artistic Identities
Panel 4A: Racialised Tensions and Migration
Panel 4B (Group Presentation): i am: Circular Questions of Identity
---

Click on the following to download the conference:
---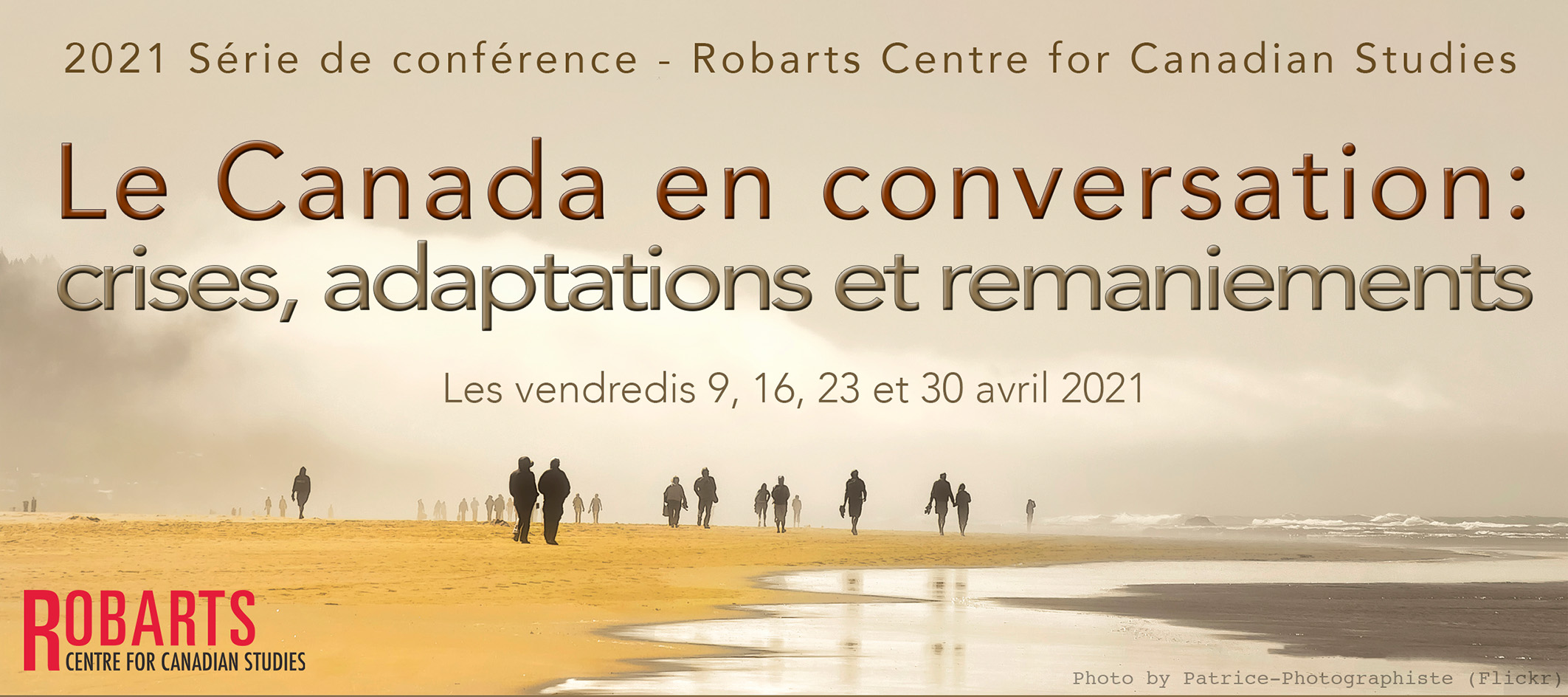 Le Canada en conversation : crises, adaptations et remaniements (conférence en ligne)
Aux abords d'une nouvelle décennie, le Canada est ébranlé par de nombreuses crises et doit faire face aux ébullitions qui en ressortent. Nécessitant de nombreuses réflexions et tout autant de nouvelles conversations, la série de conférences « Le Canada en conversation » se veut un lieu de rassemblement pour les étudiants.es des cycles supérieurs dont la recherche porte sur tout sujet Canadien. Plusieurs questions s'ouvrent à nous : quelles sont les conversations canadiennes du moment? Quels genres de transformations subissent, ou devraient subir ces conversations, surtout à l'ère de la COVID-19? Quels sont les lieux de ces échanges? Finalement, quelles sont les directions que ces conversations prennent, pourraient prendre ou devraient prendre?
« Le Canada en conversation » se tiendra les vendredis 9, 16, 23 et 30 avril 2021 de 10 h à 12 h HNE et le thème de chaque semaine sera déterminé selon les soumissions reçues.