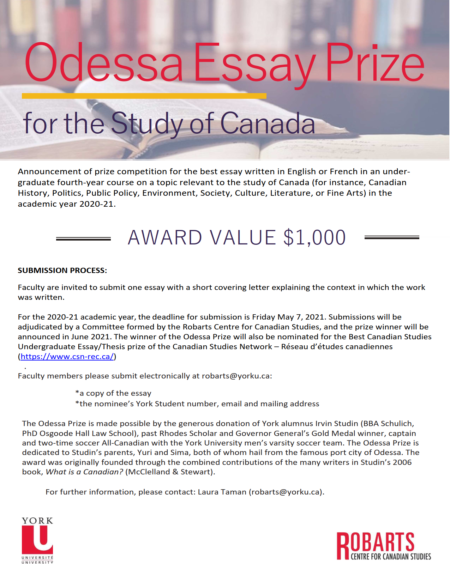 The $1000.00 Odessa Prize for The Study of Canada was relaunched in the 2018-19 academic year. The Odessa Prize is awarded for the best essay written in English or French in an undergraduate fourth-year course on a topic relevant to the study of Canada (for instance, Canadian History, Politics, Public Policy, Environment, Society, Culture, Literature, or Fine Arts)
The Odessa Prize is made possible by the generous donation of York alumnus Irvin Studin (BBA Schulich, PhD Osgoode Hall Law School), past Rhodes Scholar and Governor General's Gold Medal winner, captain and two-time soccer All-Canadian with the York University men's varsity soccer team. The Odessa Prize is dedicated to Studin's parents, Yuri and Sima, both of whom hail from the famous port city of Odessa. The award was originally founded through the combined contributions of the many writers in Studin's 2006 book, What is a Canadian? (McClelland & Stewart).
Odessa Prize Winners
2020-21: Emily Belmonte (History), "Understanding Treaty One: Subsistence and Survival 1871 - 1888"
2019-20: Natalia Santilli (English, Glendon), "The Abject Horror of the Spanish Influenza in Canadian Theatre"
2018-19: Evania Pietrangelo-Porco (History), "Sex and the City Streets: Intersections of Politics, Morality, Race and Community in Vancouver, 1983-1989"
2014-15: Jesse Thistle (History), "We are children of the river': Toronto's Lost Métis History."
2013-14: Catherine Timms (History), "Frederick G. Gardiner: An Exploration of High Modernism and the Metropolitan Toronto Council, 1953-1961
2012-13: Lindsay Moore (Anthropology and Communication and Culture), "Touring Toronto: Experiential Narratives of History, Culture and Identity"
2010-11: Lotoya Jackson (English), "Compromises of Success: Politics of Representation and Paratext in Lawrence Hill's The Book of Negroes