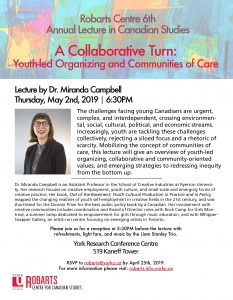 Join us on Thursday May 2 for the Annual Robarts Lecture in Canadian Studies with Dr. Miranda Campbell (School of Creative Industries, Ryerson University) discussing "A Collaborative Turn: Youth-led Organizing and Communities of Care."
Where: 519 Kaneff Tower
When: Reception at 5:30 with refreshments and music. Robarts Lecture starts at 6:30 PM.
RSVP to robarts@yorku.ca