Our Mandate
York University has one of the largest concentrations of Canadian specialists in the world. In recognition of this fact, the Robarts Centre for Canadian Studies was established in 1984 with support from the private sector and matching grants from the Secretary of State and the Province of Ontario. It was named in memory of the Honourable John P. Robarts (1917-1982), seventeenth Premier of Ontario (1961-1971) and seventh Chancellor of York University (1977-1982).
The Robarts Centre for Canadian Studies supports interdisciplinary and discipline-specific research pertinent to the study of Canada and 'Canada in the World.' Faculty, postdoctoral fellows, and graduate student associates of the Robarts Centre offer a wide range of expertise related to the study of Canada. As a designated Organized Research Unit of York University, the Robarts Centre also provides opportunities for postdoctoral researchers and graduate students from a wide range of York graduate programmes. It hosts high-level seminars and aims to support the activities of Canadian specialists at York University across a broad spectrum of topics. Academic visitors are invited to apply to participate in the activities of the Centre.
Current research projects at the Centre cover diverse fields including Canadian environment and culture, Arctic Studies, the politics of French Canada, and histories of commodity trade.
The Robarts Team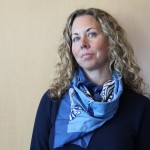 Gabrielle Slowey
Director of the Robarts Centre
Gabrielle Slowey is an associate professor in the Department of Political Science. In July 2015, she became director of the Robarts Centre in Canadian Studies. She has been working with indigenous peoples since 1997. Since that time, travelling to (or working in/with) the Miqmaq and Malisset communities of New Brunswick, the Mikisew Cree First Nation of Alberta, the James Bay Cree of northern Quebec, the Ngai Tahu and Tainui of New Zealand, the Vuntut Gwitchin of Old Crow Yukon, the Inuvialuit of Tuktoyaktuk, Northwest Territories and the Delaware of Soutwesthern Ontario. Her research concentrates on the political economy of resource development, land claims and self-government. Her publications reflect her travels. Her approach is very much community-based and community-driven research that draws on broader theoretical concerns.
Area of Specialization: Aboriginal and Arctic Politics
Research Interests: Aboriginal Peoples , Northern Development , Resource Exploration and Development, Treaties and Self-Government, Canadian Politics
Email: robdir@yorku.ca
---
Laura Taman joined the Robarts Centre as Coordinator in May 2000. She holds an MA from York University's Graduate Program in Women's Studies where her research focused on women and public policy. Laura is responsible for administration, research and development support in a wide range of research activities at the Robarts Centre, including project design and administration, assistance to researchers, and facilitating the work of Robarts Centre staff, York faculty, visiting researchers and others engaged in work on the Centre's initiatives. A member of the York community for many years, Laura has served as: a teacher at the York University Cooperative Day Care; a research assistant at the Office of the Master, Atkinson College; staff at Reception and Course Registration in the Division of Continuing Education (Atkinson College); and Executive Officer of the Atkinson Student's Association.
Email: llt@yorku.ca
---
We also have a number of faculty associates, listed separately here.